CPR Specializes in Dairy Centrifuge / Separator Parts, Service & Repair
Centrifuge Parts and Repair (CPR) has a vast amount of experience in the dairy and cheese processing industries. Dairy and cheese producers across the United States rely on CPR to keep them up and running efficiently. We handle all types of dairy separation applications, including milk, buttermilk, cream, milkfat, whey, yogurt, ice cream, hot milk skimming, cold milk skimming, whey separation and skimming, quark / quarg production, culture processing, spore and bacteria removal, and more. We understand that dairy separators require a high level of reliability and uptime, so we are extremely responsive to our dairy customers. We even have service technicians located around the country to provide a rapid response.
Dairy centrifuges need to operate efficiently to maximize production, yield, and profits, and our experience in the industry helps our customers achieve this. Dairy separators also need to maintain the highest level of hygienic standards, and our high quality OEM parts and service focus on that stringent requirement. In addition, dairy centrifuge systems must minimize energy consumption to reduce operating costs and be more environmentally friendly. Our dairy service technicians have the experience to make sure your systems are running as efficiently as possible.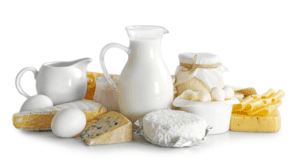 CPR provides a wide range of services for the dairy industry, and we have a stock of thousands of both OEM and aftermarket parts available for immediate use or shipping. We provide parts, rebuild kits, service, and supplies for all brands of high speed, disc stack, dairy centrifuges / separators, including Alfa Laval, Westfalia, GEA, Tetra Pak, Seital, SPX, and others. CPR also offers used equipment, including complete systems, parts, bowls, and components. Centrifuge Parts and Repair will work with your dairy to optimize your centrifuges / separators for dependable, long-term, and efficient performance.
Call Us Today at 317-751-1607 for all your dairy and cheese processing centrifuge / separator needs!