BREAKING NEWS: Cows keeping working over Memorial Day Weekend
On Memorial Day Weekend, at 8:38 am on a Saturday, CPR received an urgent service request via email. The email was from a dairy processing customer that needed help with a centrifuge motor that had stopped working, forcing them to shut down ½ of their production. Since it was a holiday weekend and dairy cows keep working regardless of equipment malfunctions, we understood the importance of timely action. Our team responded immediately with an email at 8:41 am (just 3 minutes later) to gather the necessary information. We quickly sourced – located a used motor, tested it, and prepared it for delivery. The motor was promptly delivered via courier from Indiana to the Southeast (over 570 miles), arriving at their doorstep within 20 hours of their initial request."Good morning, Dan and the Trucent Team!
I want to thank each and every one of you on being a reliable source for our motor situation on a Holiday weekend. The communication was Great between both teams. I am glad to say the motor has been installed and is running for us. Again, Thank you!"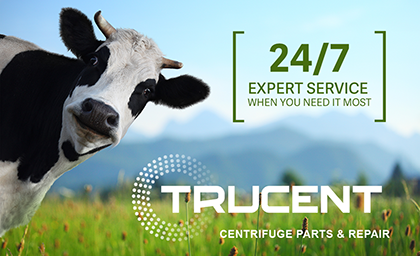 CPR's centrifuge repair team is dedicated to our customers' success! Keeping dairy cows happy across the United States with expert service when you need it most.